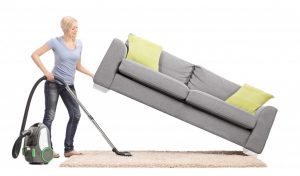 15 Spots You Might Be Forgetting to Clean
Cleaning can be a hassle, we all know that? While you might consider yourself a clean freak, hidden dirt and dust can easily build up in unexpected places in your home. It's easy to neglect certain spots that collect filth and attract germs, like your coffeemaker, trash cans, and baseboards. Make sure you cover every inch of your home and never let a dirty spot go missed again, with these 15 places you're probably forgetting to clean.
Washing machine:
Have your clothes lost that fresh scent after running through the wash? It's time to clean your washing machine. While every machine is different, you can clean your washing machine in just one cycle. Try pouring a mix of white vinegar with baking soda into your washer, and run the cycle on hot. You can also keep your washing machine extra clean by leaving the lid or door open between uses.
Curtains:
Don't skip your curtains when giving your house a deep clean. While most curtains are made of machine-washable and dryable materials, some curtains and drapes require special cleaning instructions. Dust, dirt, pollen, mold and more can easily build up on your curtains. Start at the top and work your way down by using a vacuum or damp cloth to remove any dust or dirt.
Door frames:
Even though high-up spots in your home are out of sight, dust collects in those hard-to-reach places, like door frames. Use a feather duster or soft cloth to wipe the top, sides and entire surface of door frames to remove unwanted dust or dirt.
Coffeemaker:
Rinsing out your coffee pot isn't going to cut it. If you have a classic coffeemaker, you should be cleaning it daily. This includes a gentle rinse with warm water and soap. To really give your coffeemaker a deep clean, you'll first want to run a cycle of equal parts white vinegar and water, then run another cycle with only water to eliminate the smell of vinegar. This will decalcify the machine and help prevent mold growth.
Under appliances and furniture:
You can't avoid cleaning behind the refrigerator or under the stove forever. It can be easy to forget small spaces under appliances collect loads of dust, dirt, grime, and even food. Pull your refrigerator out, clean the coils with a coil cleaning brush and vacuum, then wipe down the walls, floor and all sides of the refrigerator with a damp rag and soap. Repeat this process for under your stove, oven, and any other appliances.
Trash cans:
Taking out your trash doesn't always remove the bad odor or smells that filled the garbage bag. Leftover food or used bathroom products can leave behind foul smells in your trash can. Thoroughly scrub the can, rinse it out with a hose or water, and spray with disinfectant on a regular basis to keep your trash can clean.
Baseboards:
Cleaning the baseboards of your home should not be considered an optional chore. Baseboards collect dust and dirt all day long from furniture, pets and foot traffic in your home. Keep your baseboards clean by vacuuming, running a damp cloth along the surface or using household cleaning wipes.
Ceiling fans:
When your ceiling fan isn't running, a thick layer of dust can collect on the blades. The easiest trick to cleaning your ceiling fan in seconds is to put a pillowcase over the fan blade and wiping the dust off inside of the pillowcase. Easy and mess-free, repeat this process for each blade and your ceiling fan will be ready to run dust-free.
Light switches, door knobs and handles:
Switches, knobs, and handles are touched in your home hundreds of times each day. Make sure to wipe down popular bathroom door handles or kitchen cabinet knobs on a regular basis to eliminate the spread of germs and bacteria.
Toothbrush holder:
When cleaning your bathroom, you can be quick to skip your toothbrush holder. As a hot spot for germs, don't overlook your toothbrush holder and be sure to give it a rinse or wipe it out with a damp cloth and soap every so often.
Shower curtain:
Dealing with dirty shower curtains collecting mildew, dirt or soap scum? Instead of living with the dirt, clean the stains off your shower curtain by running your liners and curtains through your washing machine. Mix your curtains and liners in with towels, detergent, and a cup of baking soda to bring your spotless shower curtains back to life.
Dishwasher:
Unfortunately, even your dishwasher needs a good cleaning every now and then. Clean out your dishwasher filter, then run a cycle on hot with a cup of white vinegar on the top rack to remove hard-water deposits, soap scum, and clogged food debris.
Throw pillows:
Whether on your bed or couch, throw pillows are the main attraction for dust, dirt, food, dead skin and more. Some throw pillows are machine washable, but others require a little extra care. Vacuum up dust and dander, spot-clean stains with a sponge or cloth and use baking soda or an odor-eliminating product to freshen them up.
Cleaning supplies:
It's hard to imagine your cleaning supplies need cleaning, but neglecting your cleaning supplies can result in germs spreading throughout your home. Scrub your toilet brushes, brooms, and sponges. Shake out your dusters and run your cleaning cloths through the wash weekly.
Thompson Building Associates