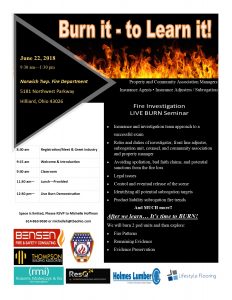 2018 Live Burn Event! 
WHO SHOULD ATTEND the 2018 Burn Event? 
Insurance claims professionals (Agents, Adjusters, managers and Subrogation units), Property and Community Association Managers.
DESCRIPTION
From the first notice of a fire loss to the conclusion of the scene investigation, this program addresses insurance adjustment & subrogation issues, legal considerations, cause and origin investigation of a fire loss and much more. A topic loaded classroom program in the morning will move to a live fire burn of two pods. Applying the insurance, legal and investigation issues to a live fire.
TOPICS COVERED IN THE PROGRAM
Insurance and investigation team approach for a successful exam.

Roles and duties of everyone involved

The fine line between mitigation of damages and spoliation.

Securing the scene and preservation issues.

Avoiding spoliation, bad faith claims and potential sanctions from the fire loss.

Legal issues involving the insured, injuries from the fire, renters and impacted third parties.

Control and eventual release of the scene.

Identifying all potential subrogation targets (known and unknown).

Product liability subrogation fire trends.

Proper and NFPA compliant notice to parties and others impacted by the loss / protocols.

Proper Damage Documentation (adjuster tips for avoiding later deposition challenges).

Legal liability – theories of recovery in negligence, contract and product liability.

Fire scene safety issues as to adjusters, investigators and all involved.

Initial and joint scene examinations of the scene (do's and dont's).

NFPA 921 / Identifying origin, cause, fire spread and responsibility for the fire.

Interactions with government officials and fire departments.
After we learn…..it is time to burn!
Live burn of Pod 1

Live burn of Pod 2
Exploration of:
Fire Patterns

Remaining Evidence

Evidence Preservation
---
Michelle Hoffman
Thompson Building Associates
---
Tom Bensen
Bensen Fire & Safety Consulting
---
David Matejczyk,
(rmi)
---
For more information, contact Michelle at michelleh@tbaohio.com or 614-863-9650