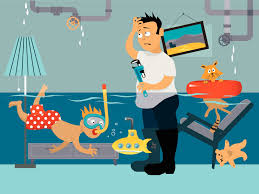 If you asked homeowners to create a list of situations they hoped to never have to deal with at home, a sump pump failure and water backup would likely rank just underneath having a fire.
Why?
It's a disaster. Typically, when a sump pump fails it causes water to backup into your home, sometimes bringing all kinds of water-borne materials with it. A water backup can create costly damage. And homeowners have to quickly arrange for cleanup and repairs to avoid further damage. While all of that may be a good enough reason to take a second look at water backup coverage, here are four more:
Reason #1: It's not included in a standard homeowners insurance policy.
Water backup coverage is an optional endorsement that must be added onto a standard homeowners, condo or renters insurance policy. Without the endorsement, you would be stuck paying for the cost of cleanup or damages caused by a sump, sump pump or similar equipment that's not considered a plumbing system or household appliance.
Reason #2: It's fairly inexpensive.
The average cost of water backup and sewer coverage is $50 to $250 annually, depending on your risk exposure and the limits you select. Different limits are available to match people's different needs. For example, think about what's in your basement—it's an area that's more likely to flood during a water backup. Is it partially or fully finished? Is your basement a storage area for expensive or hard-to-replace items? Work with your insurance agent to choose a limit that matches your unique coverage needs.
Reason #3: Water backups can happen to anyone.
There are a lot of misconceptions about who is more or less likely to experience a water backup situation. And the truth is it doesn't matter if you live on top of a hill if you don't have a basement, if you already have flood insurance (which is a different type of insurance coverage) or if your home has never had a water backup issue before. Everyone has the potential to experience this type of loss.
Reason #4: It qualifies you for Loss of Use coverage if your home is uninhabitable.
In most cases, a sump pump failure doesn't make your home unlivable—in other words, you would still be able to live in your home while it was being cleaned and repaired. But in the rare case that it does make your home uninhabitable, having water backup coverage would qualify you for Loss of Use coverage. For example, this might apply if your furnace is damaged due to a water backup, it's 30 degrees outside and you can't heat your home. Loss of Use coverage covers additional living expenses, above and beyond a person's normal living expenses, as well as loss of rent, if that's the case. So if a water backup makes your home unlivable, puts you and your family in a hotel for a couple of days and your claim adjuster approves you for Loss of Use coverage, then the cost of the hotel room would be covered.
How to best prevent water backups
To save yourself from a major headache down the road, here are some tips for avoiding water backups:
Don't pour cooking oil or grease down your drains.
Only flush bathroom tissue in your toilets (i.e. don't flush paper towels, feminine products, etc.).
Consider replacing your line with plastic pipe to prevent tree roots from entering it.
Consult a sump pump professional, typically a plumber, to check your sump pump regularly and look for any pre-existing drainage system issues.
Install a backwater prevention valve to prevent sewer backups—in fact, most new homes are built with this already installed.
Buy a battery backup to keep your sump pump running when the power goes out, or buy a water-powered backup sump pump.
Reference -Insurance Information Institute