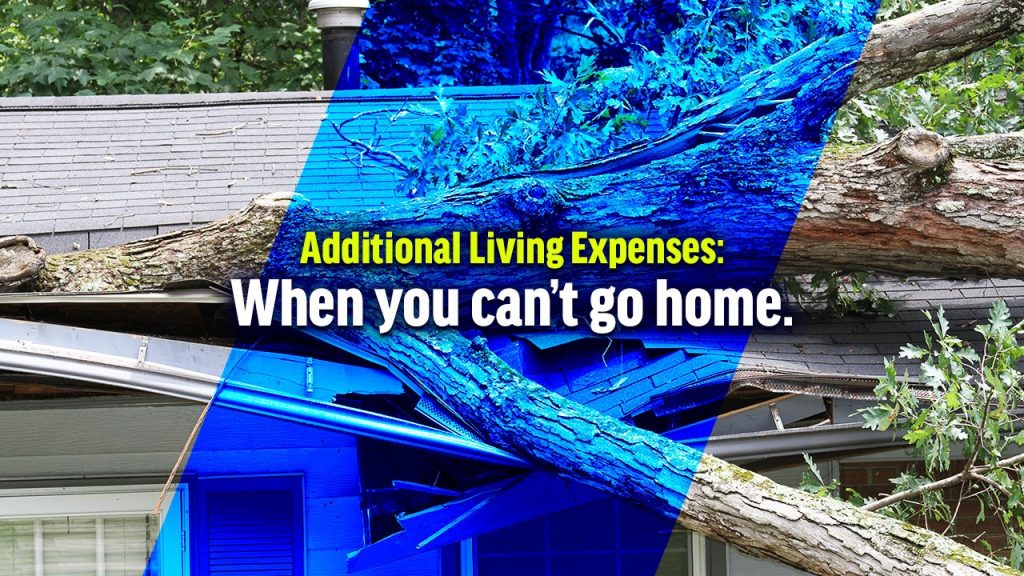 ALE - What is it? Do I need it? You may have heard stories about people who are left with nowhere to go following a fire in an apartment building for renters; or for homeowners or condo owners after massive property damages from storms, fires, or other insured risks and disasters. Does your home, condo, or renters insurance, include Additional Living Expense (ALE) coverage? ALE coverage prevents you from being in the position of being "homeless" or ending up couch surfing at your in-laws or friends' houses while you wait for repairs to be completed.
Additional Living Expenses (ALE) Defined
Additional living expenses is insurance coverage that may come with homeowner, renter insurance, or condo owner insurance policies. Additional Living Expense coverage provides compensation to you when you are unable to live in your dwelling or home. Additional Living Expenses will provide you with money to allow you to maintain your usual lifestyle and compensate you for the additional costs of living elsewhere when your home is uninhabitable. ALE is paid until the house repairs are completed, or until the ALE limit is exhausted.
How Does It Help You?
Besides the actual coverage that provides financial reimbursement of unexpected expenses. The ability to be able to maintain your independence and privacy in your own temporary home relieves a lot of stress in a claims situation. You will have peace of mind knowing that you won't ever be on your own trying to figure out where you will stay while trying to recover from a major disaster.
When Can You Claim ALE?
You can only claim ALE if your home is made uninhabitable after a loss that is caused by a risk covered by your insurance policy. Sometimes repairs in your home can make your life inconvenient, and you may prefer to go to a hotel. Never assume this will be covered; an insurance company has to approve you moving out of your house due to the claim circumstances. Some criteria they use is when there is no running water or electricity. These are conditions that may render the home uninhabitable. Having some repairs done in your basement for a week after water damage or sewer back up, may not qualify. There are cases where a client has had half their roof being repaired after a storm, but because the damage did not affect their living area very much, and they had heat, electricity, and water, ALE was not approved. Always ask before incurring costs. Each insurance company will assess the claim situation and let you know if you can have the coverage in your case.
How Does ALE Work?
Additional Living Expenses will cover the insured for the additional costs of living, which go above and beyond their typical costs as a result of a loss covered by an insurance claim. The key here is that the additional living expenses focus on the extra cost. For example - a renter pays typically $500 a month rent. Due to a fire in their building, the landlord tells them not to worry about paying the rent until the apartment is inhabitable again. They find  temporary lodging of similar quality and location, but because it's furnished, it costs them $900 a month. Their additional living expense is $400 in this scenario. Not $900. Similarly, let's say that because of the tough situation, the renter decides to live a little more luxuriously while they wait for their apartment to be ready. Instead of the $900 apartment, they go for the top floor unit with the view for $1,300 a month. The insurance company can review the claim and may be able to determine that this is not a case where the current standard of living was being maintained, and may only agree to pay an equivalent to the $900 apartment. Once again only paying $400 for actual additional living expenses during the month the tenants were displaced.
Additional Coverage
Here are a few examples of things that an insurance company will consider paying for under the ALE coverage in a claim if it makes sense to maintain your lifestyle:?
Restaurant meals
Costs for increased mileage or transportation costs due to the new temporary location
Costs for your temporary accommodation, be it a rental, a hotel, motel, or room in a boarding house.
Costs of doing laundry—If you have to send your laundry out because you don't have access to a washer and dryer at your temporary home, then it may be covered, for example
Furniture rental—costs to rent individual items you are usually used to having may be included and considered
Storage costs for contents under particular circumstances
Moving or displacement costs
Pet boarding and more
Additional living expenses are meant to cover the difference between what you usually pay and what you now have to pay due to the fact you're not living at home. While the additional costs may be covered by ALE, there will always be an assessment of how the expenses you're claiming compare to the customarily expected costs of your lifestyle. As in the example of the tenant renting, similar assessments will be made by the insurance adjuster.
Reimbursed Amount
It is easy to misunderstand what is going to be paid out to you when you claim for ALE. The last thing you want to do is start spending all kinds of extra money, only to find out you are only getting half of it back. The good news is that most insurance companies have extensive networks and resources to help you find a home or rental similar to yours. The adjuster will usually provide you with some options to choose from that will meet your ALE limits, and will be in a position to discuss how long your coverage will pay for the additional living expenses. Because ALE has a limit in most circumstances, you don't want to run out of money to cover your costs, which is why it is an excellent plan to ask your insurance adjuster specifically about the length of time you can expect to be covered for while repairs are being done in your home.
Limit on an Insurance Policy
Depending on your policy form and type of policy, the limit on ALE is usually:
 About 30% of the dwelling limit amount on standard homeowner policies
Around 50% of the personal property or insured contents amount on condo policies
Approximately 30% of the personal property or contents limit on a standard tenant policy
These are just examples of what you might expect as a standard ALE limit. The key here is to know your limit, which you can find on the insurance DEC page of your policy or in the wording. There are policies with higher limits, and insurance companies may decide to increase ALE limits based on their own criteria. You should always inquire with your insurance representative about the ALE coverage and decide if this is going to be enough to cover your costs.
Restaurant Expenses
Restaurant costs are an ordinary ALE expense that is misunderstood. You should always ask your adjuster how these costs will are reimbursed and what amount they consider as reasonable per meal. Insurance companies usually have a guideline as to what they are willing to reimburse as an average. When your bills fall within this norm, you won't have a problem. If they are above the standard, your claim will be examined more closely. This means that you may have to prove your actual loss and costs before getting paid. This extends beyond just providing a receipt. It includes determining what you usually spend on food, then showing the restaurant costs you are paying are reasonable compared to your lifestyle.
For example,
Craig and Jessica enjoy gourmet food. Craig is an excellent chef and usually keeps high-quality meats and seafood and creates excellent meals every day. Craig and Jessica get put in a rental home with a full kitchen by the insurance company. They go out to dinner several times and then submit the receipts to the insurance company for reimbursement. The insurance company questions the bills, citing that the meals are all over $200, and this is beyond their standard allowance for additional living expenses. Craig explains they like to eat very well and are used to high-end cuisine in their home. The adjuster knew this about these clients, and that's why they put them in a very well furnished house with excellent kitchen amenities. Unfortunately, Craig's explanation of their additional living expenses doesn't add up in this case. The clients were given all the same amenities they had at home. Eating at their favorite restaurants was not an additional living expense caused by the claim or displacement. The insurance company was within their right to pay the usual food allowance to the standard of what would exceed their everyday grocery purchases. Craig and Jessica were out of pocket because they misunderstood the coverage.
4 Ways to Make Sure You Get Maximum Benefits Paid
Be ready to provide receipts for all your expenses.
Document how the costs are an increase in your ordinary expenses.
Provide proof of your average expenses to be used as a comparison point for the insurance company in case there are questions.
Get written authorization for any personal expenses from the insurance company to avoid misunderstandings.