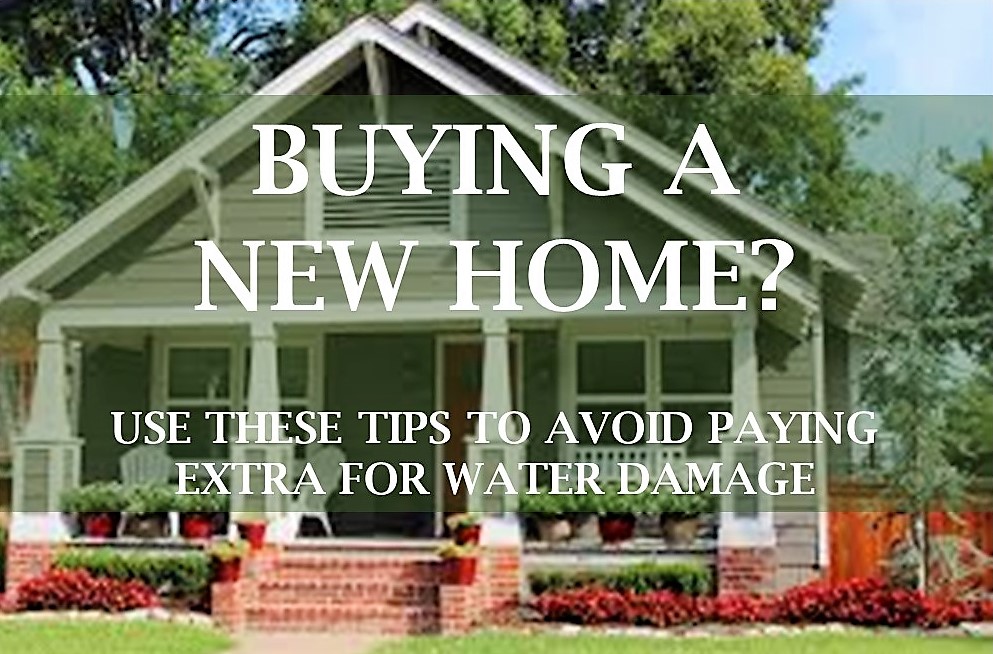 Buying a New Home? Use these tips to avoid paying extra for water damage.
So, you found a beautiful new home. It's the perfect location, has everything that you are looking for and you've already begun placing the furniture and making memories there, in your head. But then you learn - it has suffered water damage.
As the buying process moves forward, the home inspection occurs. Your Home Inspector delivers some news that you weren't expecting … You've made an offer on a home that has sustained damage from water at some point in the past. For buyers considering a home with pre-existing water damage, all is not lost. Just move forward cautiously and ask good questions to determine if the home has been properly repaired and is ready to buy.

What Was the Extent of the Damage?
The type of damage that home flooding can cause depends on the location, nature and severity of the flood. A burst pipe in the winter that never led to water in the house is a very different kind of damage than a flooded river or a water heater that dropped hundreds of gallons of water in a basement. If the seller's insurance covered the incident, there should be a detailed property claim estimate of the damages with recommendations for repairs or replacement. Ask to see this list because it will identify precisely where damage occurred and all structures, systems and equipment involved.

Which Repairs Have Been Completed?
With the list of recommended repairs, a buyer also needs to check to see which of them were done to specification. In some cases, homeowners try to save money or time by repairing something themselves. They may simply not get around to replacing things that did not seem particularly damaged. Since everyone has a different perspective of necessity, you want a way to check off the items that were completed, and which were not. Ask for receipts of repairs or replacement done by professionals, in case you need to follow up with the companies for additional service. Collect these records and keep them together, so that you have the information at hand.
If most of the necessary repairs were not performed and it has been a couple of years since the incident, it may be more worthwhile to reconsider buying the home.

Has the Cause Been Identified and Fixed??
Repairing the damage is not always the same as preventing the same flooding from happening again. Sometimes, in the rush to get the house back into order again, homeowners forget about making fixes that stop further damage. Ask about the source of the flooding. A pipe that froze and burst is likely to occur over and over without proper insulation for the plumbing. An old, leaking water heater should be replaced. If the basement flooded due to runoff from a particularly bad rainstorm, systems should be put in place to properly grade the property and provide a backstop (e.g. a sump pump) for additional occurrences.
Are There Any Long-Term Problems?
Even homeowners who perform their due diligence in fixing water damage may fall victim to long-term effects of water saturation. For example, if the walls sat in standing water for hours or days, and were not quickly and completely dried, mold may grow behind the walls. Ask for information about mold testing, to be sure that you do not have a host of potential health problems waiting for you. Consider all the information you are given about the water damage and decide if you feel the sellers have done their best to get the house in move-in condition. If not, you should think about moving on to other options.

When viewing homes with your realtor, there are some things that you can keep in your mind prior to an offer and home inspection:?
Be alert to musty odors, especially in damage-prone areas like basements and bathrooms. These areas are typically indicative of ongoing mold growth resulting from past and/or present water damage.
Take a close look at ceilings. Are there stains? There is rarely a good explanation for stains on the ceiling, outside of a water leak. Most likely, somewhere, at some point there was one. Be sure to ask the current owner.
Check the solidity of flooring around baths, showers, dishwashers, and washing machines. If it feels spongy or is sagging, the floor could be compromised due to past water damage.
Pay close attention to wood flooring. Are there signs of buckling, warping, cracks, or de-lamination? If so, this could be an indicator that the floor at some point was saturated by water and improperly dried.
Open cabinets and look inside for stains and other discolorations. Those are usually a sure sign of a supply line or drain leak.
Don't forget the attic! Looking for dark streaks on the underside of the roof sheathing could help you to determine if there has ever been an issue with roof leakage. Also look at the insulation for possible mold that may have been triggered by a past roof leak.
Check the basement for unexplained puddles, dripping or noticeably high humidity. Any of these could mean that you will deal chronically with a wet basement. Streaked basement walls or discolored floor cased by ground water seepage or past flooding is also another indicator.

Every existing home has a history, but some have more than others. Simple questions like these help the potential new buyer to flesh out any red flags that the home might present related to its water damage. When everything seems to be in good condition, you will feel better about having all the facts. If the information makes you run in the opposite direction, at least you will know that you avoided a serious mistake.
Learn More About Thompson Building Associates