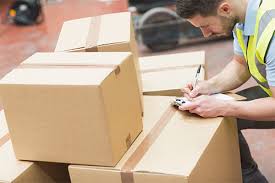 After a disaster occurs in your home there is a list of things a homeowner must go through.  Cleaning up after a disaster is one of the hardest parts. What do you do to clean up your damaged items? One important thing to keep in mind is removing all items not destroyed in the damaged part of the home. A restoration-
contents cleaning company should be able to save as many items as they can. This process not only gives you peace of mind that you are getting your stuff back 
but, it is also cuts down on costs. Let the experts handle your items while your home is being restored! 
What Happens During Contents Cleaning?
Item Pack-up
Skilled professionals will come into your home and begin sorting through every item that was damaged. Every single item will be taken unless notified beforehand. We even take everything out of the prized junk drawer! After that, each item is tagged, wrapped, and placed into a storage container. These containers are moved to our facility warehouse.
Item Pack-out
After we have gone through the items in your home, we begin to pack them into our storage containers. Note: There could be several storage boxes filled with items in a fire damaged home. This will also be labeled to ensure the items stay together. Thompson Building Associates will send a team out to your home to pack these storage containers and move them back to our facility.
Contents Cleaning
Our skilled cleaning crew will start the process of cleaning every single item from your home. Then, carefully unpack your items from the storage boxes and decide what the best process is for cleaning each item. Most of the items will go into the Ultra Sonic Machine that uses gentle vibrations along with a liquid cleaning solution to remove the smoke damage. Each item will be lowered into this machine and submerged in the solution. The process can also clean electronic, you just have to take the battery out! It might take a few times to remove all the smoke but, this depends on how much smoke is on that item.
When it comes to the larger items an Ozone Room is utilized. The item will be cleaned and placed into this controlled room. The Ozone Room heats up the space and create its own "ozone" within the space. As the Ozone particles begin to break down, they attach to the smoke particles and remove the smell from that item.
After each item is cleaned, they are packed into storage container and will be kept until the job is completed!
If your home or business experiences a loss involving fire or water damage that needs help in cleaning out your belongings, please give Thompson Building Associates a call. We have an onsite facility that will clean your items and get them back to you safely!
For more information about Thompson Building Associates/ ResQ 24 and our restoration services, please call (614) 863-9650.
To watch the Ultra Sonic Machine in action, check out our YouTube channel and watch Sheila walk us through the process!