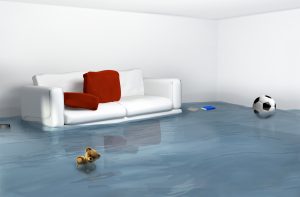 Have you experienced a flooded basement?
For most people, uninvited water in their basement is more like a disaster than an inconvenience.  Situations like a flooded basement seem to happen at the worst possible time, usually when another of life's curve-balls is being thrown. Whatever the cause, flooded basements are a major issue to the health,
safety and structural integrity of your home.
An immediate reaction to a flooded basement is key in saving your property and preventing further damage. Preparing for a flood is not on most people's priorities, but when it happens, a quick list of what to do is invaluable. Here are the first steps to take when cleaning up a flooded basement
Address Health and Safety issues
Keep children and animals out of the basement and away from standing water and any aerosol effects from stagnant water. Depending on the source, water might be polluted with fecal matter or dangerous chemicals. Wear protective clothing like boots, coveralls, gloves, goggles or even a respirator when entering your flooded basement.
Deactivate Services
Before entering your basement, ensure all services are deactivated. This includes electricity that should be shut off at the main breaker panel and the gas valve being closed at the outside meter. Domestic water might have to be turned off at the street to stop a running water tank or burst line. Don't guess at how to terminate services. If in doubt, ask for help from neighbors or service authorities.
Stop the Flood Source
The flood source may not be apparent, especially if the flood has been occurring for some time and a great deal of water has built up. Start with shutting off domestic water and then work towards unblocking drains.
Ventilate
Let nature help you clear the air and begin evaporation. Open the windows and doors and get a cross-flow of fresh air blowing through your soaking basement. Use fans if you have them or invest in renting some. Air movement is by far the most effective drying source, regardless of whether the air is cool or warm.
Contact Your Insurance Company
Don't forget your insurance company. If you have all-perils insurance that includes flood coverage, ensure you report the flood damage to your provider as early as possible. Your insurance may look after all flooded basement costs and may pay for a contractor to provide most of these difficult and crucial steps.
Contact ResQ24 by Thompson Building Associates
Once you've taken these important first steps in cleaning up a flooded basement, be sure to contact a certified water damage restoration professional. Thompson has been a leader in fire and water response and full-service experts for over 30 years. Expert services from board ups and water extraction to complete reconstruction services. Our experts in property damage provide you the confidence that Thompson will deal with your insurance carriers and agents so you receive the full coverage you're entitled to. Team members respond 24 hours, 7 days a week, 365 days a year means just that…our emergency crews are ready to secure your home or business when property damage strikes.
Fire Damage Board-up Service:
ResQ 24 team members will arrive on-site to secure your building without causing additional damage to the structure. We can board up a single window or an entire roof. Our carpenters are trained to stop additional damages and make sure the building is secure.
Temporary Services:
Temporary fencing is often used to assist in keeping "unwanted visitors" away from your fire damaged property. Utility services are also often disconnected as the result of major fire or water damage and temporary services like electric, plumbing, and heating not only make it easier for you to assess the extent of the damage but protect the property from further damage and make it easier for our crews to begin the restoration process and return your property to pre-loss condition.
Structural Drying Service:
No matter how much water or foam was used to put the fire out, we'll make sure it is dried out quickly and properly. Our ResQ24 Emergency Service crews use water extraction techniques that exceed industry standards.
Reconstruction Service:
We are a full-service licensed general contractor. We can handle jobs large and small. Our team of carpenters and project managers can put your home back to its condition prior to the fire.
Laundry Service:
We can have textile partners at your home within a very short time. These partners offer emergency response time for getting important and needed personal items back to you within 24-hours.
Fire Damage Contents Pack-Out:
Team members are equipped and trained to inventory, pack and move all of your contents out immediately following a fire. Our Clean Team will make this process seamless and worry-free.
Fire Damage Contents Cleaning:
We can clean all of your belongings, from your TV's and computers to dishes, artwork, and drying of documents. Our facility is state of the art. NO ONE has the content cleaning capabilities we have.
Dehumidification:
Proper, timely structural drying is the key to getting your home or business back the way you want it after a flood and avoiding more problems! From structural framing to specialty flooring and everything in between – our ResQ24 Emergency Service crews know how to dry it! And they monitor drying equipment and progress daily to keep you up-to-date.