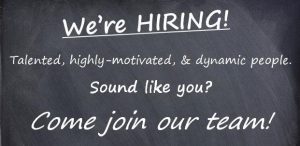 We're Hiring!
THOMPSON BUILDING ASSOCIATES
, Founded in 1978 is Central Ohio's largest and oldest Insurance Restoration & Remodeling Company. Our growth opens up opportunity for a Business Development Representative who wants the security that only a stable and established company can offer, year round recession proof employment, and a chance to actually grow.
We have an opening for a motivated, energetic, personable person to sell our name, brand and service offering to clients in Central Ohio. We have a compelling story to tell prospective clients and an array of services to assist clients needs and need YOU to tell it!
Candidates should possess integrity, character, ambition for success. If you are looking for an exciting opportunity, and willing to learn, email us to become part of the Thompson Building Associates family!
Responsibilities:  
·        Conduct target market research 
·        Manage small and medium sized business accounts 
·        Identify and qualify prospective partners and clients 
·        New partner acquisition and retention 
·        Partner relationship building 
·        Maintain existing partner retention 
·        Provide sales presentations and customer service to business partners 
·        Engage, develop, and maintain relations with prospective and current business partners 
·        Understand company's needs and branding 
·        Partner updates 
Qualifications:  
·        Excellent communication skills and confidence 
·        Highly detail oriented
·        Understanding of market and business practices 
·        Knowledge of company, product, and company needs 
·        Ability to think and cope in emergency situations
·        Business Degree or equivalent marketing experience preferred but not required 
Benefits include: 
·        Advancement opportunity 
·        Work in an exciting and friendly environment 
·        Competitive Salary and commission structure and benefits 
·        Company car 
Job Requirements: 
·        Authorized to work in the US 
·        Sales and/or marketing experience a plus, but not a requirement. 
·        Competitive and proactive attitude 
·        Confident demeanor 
Job Type:  
·        Full-time 
Stop by our office to fill out an application Monday - Friday from 8:00 am - 3:00 pm.  or mail resume to: 3333 Refugee Road, Columbus, Ohio 43232 Position on
Indeed