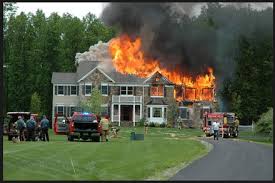 Smoke and Fire Damage
Unfortunately, there is more than just smoke damage after a fire. Smoke and water damage, are issues that must be addressed. Without proper cleaning techniques and the right equipment, it can be very difficult to restore a home or business after it's been damaged in a fire. If not properly mitigated, this damage can cause lasting structural and possibly health issues in the future. That is why it is always best to call in a professional restoration company.
What is Smoke Damage?
Smoke damage is both the odor and physical residue left behind from all of the materials that burned. Wood, fabrics, plastics and other materials produce a variety of odors and residues when burned. Different cleaning products and techniques are needed to thoroughly and safely remove smoke damage. Items that are commonly affected by smoke damage after a fire are:
Walls
Ceilings
Window treatments
Clothing
Furniture
Jewelry
Artwork
Books and photographs
Electronics
Documents
Photographs
If left untreated, this damage can leave behind unsightly stains, discolorations, corrosion and permanent damage.
Tips for Filing Fire and Smoke Damage Insurance Claims
If you experience damage, here are a few tips for starting the restoration process:
Call your insurance company or agent immediately following a fire. Do not wait.
Review your homeowner's or renter's insurance policy. If you do not have a copy of your policy, your insurance company or agent can provide another copy. Look on the declarations page for information regarding your policy's coverage, deductibles, limitations or exclusions and if there are any filing deadlines.
If possible, take photos or video of the damage. Try not to disturb the affected area. Allow only necessary authorities on site.
Call a professional restoration team like ResQ 24 to assess the damage and provide a remediation plan.
Begin gathering all the necessary information needed to file the claim. This information may include but is not limited to:
Insurance policy number.
Date of the loss.
Type of damage (fire, smoke, water or all three?).
Location of the damage.
A copy of the fire/police report.
Your agent will advise you of the next steps at this point.
ResQ 24 is available 24/7/365 and we work with most insurance providers.