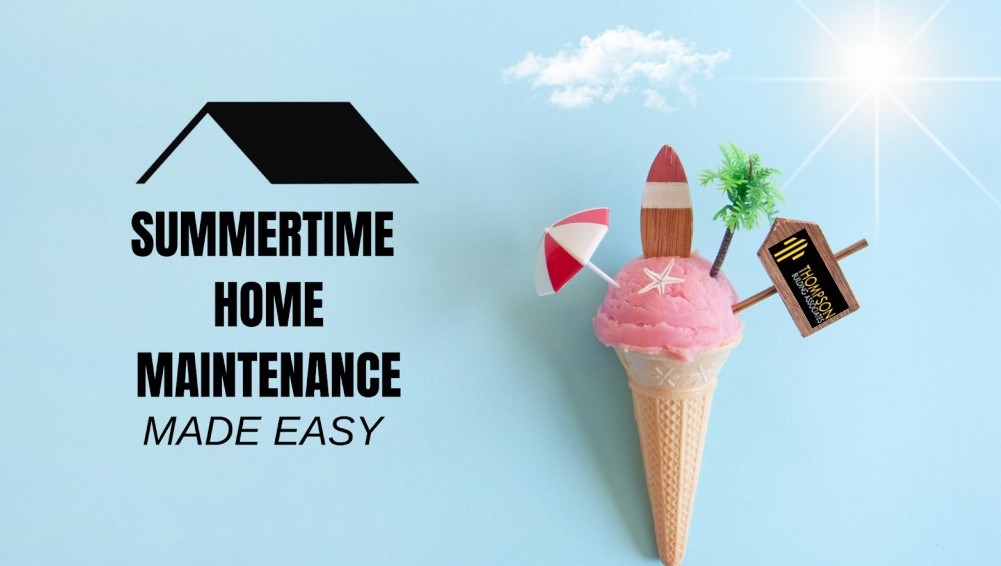 Summer is here, and because of
COVID-19
, we are all spending more time at home. The good thing for your home – you have a little extra time to work on your houses "to-do list." Regular maintenance can save you money in the long run. Too many people wait until a problem has to be corrected because they don't want to spend a little money now.
Below are nine things you can do this summer for your home that will cost you a little but save you a lot:
While you're relaxing in your yard, take a look at your trees. Ensure the limbs aren't encroaching on the telephone or electrical wires and aren't too close to your roof or gutters. All you need is a good storm to break off a limb and land on your roof or knock against a gutter. Trim your trees before they get to that point. If you can't do it yourself, call a specialist. 1.Check your gutters after, or during, the next rain. Ensure they are flowing freely, and water isn't stopping up and overflowing due to leaves or debris. If it is, cleans them out. You'll save your roof and possibly your basement if enough water pools from the overflow. 2. Check out your walkways, driveway, and sidewalks. If you have small cracks, apply concrete caulk after cleaning out the crack. For larger cracks, use a concrete patch instead of caulk. 3. Check your roof to be sure you didn't lose any shingles over the winter. Have those replaced right away to avoid costly repairs when the roof starts to leak because eventually, it will. 4. Wash the exterior of your house using a garden hose. Power washers can damage siding in inexperienced hands. It is powerful enough to force water under the siding, causing rot and mildew in the wood underneath. If your house is painted, touch up any areas where the paint is peeling.
Thinking about a remodel this summer? Give us a call!
5. Now is the time to call your furnace service provider to see that it is in good working order. If you do need any costly parts, you have the summer to budget for them. You can fix it in the fall before winter arrives, and you end up paying emergency rates because of that early cold snap. 6. Have your chimney and flue inspected and cleaned. A plugged up vent can cause carbon monoxide poisoning. It is easier to get an appointment with a chimney sweep in the summer, and you may get a lower rate. 7. Disconnect the duct on your clothes dryer to vacuum it out and get rid of the lint and debris. A clogged dryer filter can cause a fire. 8. Check the weather stripping on your doors and windows and replace them as needed. It will save on your heating bill in the winter. 9. The next time you're relaxing on your deck or patio, take the time to inspect it for cracks, rot, exposed nails, or loose railings. Take corrective action, then clean and reseal your deck. It will make it last years longer.
If you follow these summer maintenance tips, it will go a long way towards saving you money. Your house will look better, and you won't have to worry about your friends or family tripping on that crack in the concrete or that bad step on the deck. Remember to always clean up any lawn waste or fallen tree branches, and properly dispose of food and charcoal after barbecuing, to deter rodents. Check under your porch and deck for any signs that an animal has taken up residence there. Call a professional to remove them. These small steps can go a long way to making your house more appealing. Your home is probably the most significant investment you will make, and regular maintenance is the smallest thing you can do to ensure you get the most out of your investment at the least cost to yourself.
Learn more about Thompson Building Associates