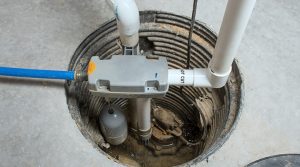 Preventing sump pump failures If you have a basement, chances are that your sump pump is your last line of defense against flooding.  Without getting technical, and to make a long story short, a sump pump keeps your basement dry. When heavy rains hit, the pump kicks in and take water away from your home. Unfortunately, there are times when pumps fail and you will find your basement under water. If this happens, acting fast is key in preventing further damage. Water, if not dealt with in a timely manner, can cause problems such as mold, structural damage and more.
Perform Quarterly Maintenance on Your Sump Pump.
A vinegar solution can be run through the sump pump in order to clean it.

The pump will become free of tiny dirt particles and debris which will allow the pump to run cleaner.

Make sure that the pumps float is not restricted in any way. If it is, it will keep the pump from not automatically kicking on as water levels rise.
Clean all vents and air holes for maximum effectiveness.
Occasionally, test your pump to ensure it is working properly. You can do this by dumping a bucket of water into the pit to be sure the pump kicks on.
Replace the battery backup every 2-3 years.  The last thing you need is to find out your batter backup is dead in the middle of a power outage during a big storm.
After heavy rains, check the pump inlet screen for any blockages, one of the leading causes of sump pump failure.
Do You Have a Sump Pump Rider on Your Home Insurance Policy?
A homeowner's insurance policy does not automatically mean that you are covered if your basement floods from a pump failure or a catastrophic weather event. Be sure to check with your insurance agent if you have a sump pump, to be sure that you are covered in the event of a loss.