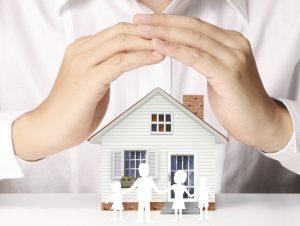 Keeping Your Home Protected
The Importance of Adding Water Backup Coverage to Your Insurance Policy
Whether it's a sump pump failure or a clogged drain, water backup is one of the most common types of losses. Do you know how your homeowner's insurance would respond? A standard homeowner's policy provides coverage for accidental discharge or overflow of water from plumbing, heating, and air conditioning as long as it originates on the premises.  For example, if your shower drain clogs and causes an overflow, you would have coverage for the resulting damage. Imagine heavy rains causing the sewer line to back-up into your basement. Coverage is specifically excluded for off-premise backups unless you have the water back up of sewer and drains endorsement. A water back up endorsement removes the exclusion for overflow and discharge from sump pumps. It also increases coverage to include backups that originate off premises. The endorsement generally includes several limit options ranging from $5,000 up to the full dwelling amount
Damage from unresolved maintenance issues:
While your insurance will probably help cover the cost of replacing or repairing a damaged floor if your dishwasher suddenly goes on the fritz, coverage generally will not kick in if the damage results from an unresolved maintenance issue, such as continuous leaking near a faucet or other plumbing fixture.
Replacing or repairing the source of the water damage:
Most insurance policies will not cover the source of the water damage. So while your policy may cover the cost of tearing out and replacing that damaged floor, you shouldn't expect it to cover the cost of replacing your broken dishwasher or washing machine.
Backup from an outside sewer or drain:
You also will not typically be covered by a traditional homeowner's policy if water backs into your home through an outside sewer or drain. You may, however, be able to purchase additional sewer or water backup coverage that may help in case of such an event.
Flood:
No type of flood damage, no matter the source, is covered by standard homeowner's policies. Flooding, for example, can occur from storms, over-saturated ground, overflowing or surging bodies of water such as rivers, ponds, lakes, and oceans. You can, however, purchase flood insurance through the National Flood Insurance Program.
Check Your Policy!
Reason #1: It's not included in a standard homeowners insurance policy
Not sure if your home insurance policy includes water backup coverage? Then it's time to give your insurance agent a call. Water backup coverage is an optional endorsement that must be added to a standard homeowners, condo or renters insurance policy. Without the endorsement, you would be stuck paying for the cost of cleanup or damages caused by a sump, sump pump or similar equipment that's not considered a plumbing system or household appliance.
Reason #2: It's fairly inexpensive
The average cost of water backup and sewer coverage is $50 to $250 annually, depending on your risk exposure and the limits you select. Different limits are available to match people's different needs. For example, think about what's in your basement—it's an area that's more likely to flood during a water backup. Is it partially or fully finished? Is your basement a storage area for expensive or hard-to-replace items? Work with your insurance agent to choose a limit that matches your unique coverage needs.
Reason #3: Water backups can happen to anyone
There are a lot of myths about who is more or less likely to experience a water backup situation. The truth is it doesn't matter if you live on top of a hill if you don't have a basement, if you already have flood insurance, or if your home has never had a water backup issue before. Everyone has the potential to experience this type of loss.
Reason #4: It qualifies you for Loss of Use coverage if your home is uninhabitable
In most cases, a sump pump failure doesn't make your home unlivable—in other words, you would still be able to live in your home while it was being cleaned and repaired. In the rare case that it does make your home unlivable, having water backup coverage would qualify you for Loss of Use coverage. For example, this might apply if your furnace is damaged due to a water backup, its 30 degrees outside and you can't heat your home. Loss of Use coverage covers additional living expenses, above and beyond a person's normal living expenses, as well as loss of rent, if that's the case. So if a water backup makes your home unlivable, puts you and your family in a hotel for a couple of days and your claim adjuster approves you for Loss of Use coverage, then the cost of the hotel room would be covered.